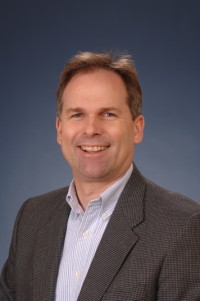 Tom Evans is Principal at The Lûcrum Group and the creator of the highly acclaimed "From Napkin to Revenue Workshop".   He is an internationally recognized authority in product management, global marketing, business partnerships and entrepreneurship. In his extensive experience, he has helped start-ups through Fortune 500 companies create and launch winning products and has led business development efforts in the US and global markets.
Tom's experience covers numerous vertical industries, technologies, and international markets. His industry experience includes complex software solutions for manufacturing, document management, call centers, financial services, and project management. Tom lived and worked in Brazil and has conducted business internationally, including Europe, Africa, Latin America, and Asia-Pacific.
While leading product management and business development efforts, Tom has helped companies establish and enable successful partnerships in the US, Brazil, Chile, Mexico, South Africa, India and the United Kingdom. Through training & consulting, Tom has helped companies across multiple industries, including manufacturing, technology and financial services, implement more effective product management and product marketing practices, helping them to achieve greater success in new product launches and market growth.
As a recognized speaker, panelist and trainer, Tom has spoken and presented on topics including; global market entry, new product development, market strategy, product launch, lean startup, preparing products & services for international markets and product innovation. Tom has delivered workshops and keynote addresses at international conferences, including the Costa Rica Services Summit, Americas IT Forum (US and Guatemala), RISE (Relationship and Information Series for Entrepreneurs) and the International Developers Opportunity Conference (Brazil), amongst others. Tom has taught International Marketing workshops at the International Business Institute of Austin Community College and currently teaches a workshop on Strategic Marketing at The University of Texas at Austin.
Tom is a contributing author to two best-selling books on product management and product marketing: The 42 Rules of Product Management and The 42 Rules of Product Marketing and blogs on the topics of startups, product management, product marketing, global marketing and innovation.
Tom has a BSEE from The United States Air Force Academy, an MSEE from The University of Dayton, and graduated with honors with an MBA from The University of Texas at Austin. Tom has achieved the designations of Certified Product Manager and Certified Product Marketing Manager from the Association of International Product Marketers and Managers (AIPMM).